Innolytix Ventures is Catalyzing > Elizabethtown, Kentucky! In an effort to evolve the revitalization of downtown E-town, we are launching a "Catalyze E-Town" contest for ambitious entrepreneurs and start-ups to win some innovative assistance.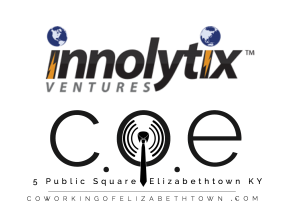 Innolytix is focused on inspiring ambitious thinkers and doers who have recently started, or, dream of starting their own business. Go to the www.innolytix.com web page and click the "Catalyze E-town" link to upload your proposal and information.
As a Small Disabled Veteran Owned business, Innolytix encourages recently transitioned veterans to apply. Like us, you proudly served your country, and we hope this inspires you to make your dreams happen.
Because Innolytix loves inspiring innovation, the proposal with the best launch potential will win 1 FREE YEAR, … yes… a FREE YEAR's worth of strategic marketing & advertising advice from Innolytix Ventures to launch their startup. How much would that save you? That is an offer too good to refuse.
Secondly, as a Valentine's Day gift, the lucky entrepreneur will also of 1 YEAR of FREE access to use the newly launched "c.o.e." (coworking of Elizabethtown) space in downtown E-Town. This is a free office for a year. You have to love that.
The contest entry deadline is 7 March. Ultimately everyone wins… You, the entrepreneur, Elizabethtown, and the customers you will serve.
Innolytix Ventures is your new innovation agency in E-town for catalyzing your marketing strategy. Other enterprises interested in strategic brand innovation and marketing can visit the Innolytix website CONTACT US page or call 866-INOLYZR (866-466-5997). Isn't it time to call Innolytix for a "new analysis" of your business innovation?
Go to our home webpage www.innolytix.com to get inspired and launch your innovative ideas! "Innolytix > Catalyzing Innovation!"™